Reiki Rainbow Energetic Healing - Follow your Heart
In the midst of having so many things to do, finding time for yourself can be a challenge for many. Balancing between the work requirements and what you love is significant before things go out of balance. Understanding the totality of existence – Ying/Yang, Light/Dark is imperative. Reiki Energetic Healing is one of the approaches one can find balance, clear energy to flow and feel relaxed bringing awareness to what are the aspects that need attention to embrace the flow of Life and making resolutions. Never give up and keep taking a step forward to understand your Physical / Mental / Emotional / Spiritual aspects and instincts.
As a Reiki practitioner & practicing Raja Yoga Meditation for over 10 years it is vital to express and share the benefits of this beautiful, soulful alternative medium as well. It is always important and necessary to Follow your Heart, Forgive, Accept, have Gratitude, Value, Enjoy what your are doing and much more to enhance your well-being. Moreover, balancing your life with the responsibilities you take must be taken into consideration. Meditation and/or Yoga is very important to elevate, heal and embrace the awareness you seek moving forward. Connecting more with Nature is vital rather than being too much indoors.
Gratitude & Namaste
What REIKI is: Reiki is a form of complementary Healing, which enhances the body's ability to heal itself through energy. Each treatment takes 60-90 minutes.
What Reiki is NOT: Your practitioner is not a licensed physician. REIKI is a complement to 'healing arts services.' It is a complement to more traditional western medicine provided by doctors, nurses and hospitals. As a complementary or alternative medicine, REIKI does not require licensing by the state.
Reiki Practitioner: During a Reiki Session, The participant lies down fully clothed. The practitioner places his/her hands on or above the body and allows the REIKI (energy) to radiate from the hands.
Reiki Treatment: Stress, trauma and illness restrict the natural flow force energy through the body. Reiki rejuvenates the body's ability to relax and de-stress, and supports its ability to heal itself to break up energy blocks.
ยินดีต้อนรับสู่เรกิ! วัตถุประสงค์ของแบบฟอร์มนี้คือการให้ข้อมูลพื้นฐานบางประการของเรกิกับคุณ
เรกิคืออะไร: เรกิคือรูปแบบของการบำบัดทางเลือก ซึ่งช่วยเพิ่มความสามารถของร่างกายในการบำบัดตนเองผ่านพลังงาน แต่ละการบำบัดใช้เวลา 60-90 นาที
เรกิมิใช่อะไร: นักบำบัดของคุณมิใช่แพทย์ซึ่งได้รับใบอนุญาต เรกิคือองค์ประกอบหนึ่งของบริการที่เป็นศาสตร์การบำบัด มันคือส่วนเสริมของการแพทย์แผนตะวันตกดั้งเดิมที่ถูกจัดให้โดยแพทย์ พยาบาล และโรงพยาบาล ในฐานะที่เป็นการแพทย์ทางเลือก เรกิจึงไม่ต้องการใบอนุญาตจากรัฐ
นักบำบัดเรกิ: ระหว่างคาบการบำบัดเรกิ ผู้เข้าร่วมนอนลงโดยสวมเสื้อผ้า นักบำบัดวางมือลงบนหรือเหนือร่างกายและปล่อยให้เรกิ(พลังงาน)แผ่กระจายออกจากมือ
การบำบัดเรกิ: ความเครียด บาดแผลในใจ และโรคภัยไข้เจ็บกีดกั้นพลังงานขับเคลื่อนที่ไหลผ่านร่างกายอย่างเป็นธรรมชาติ เรกิฟื้นฟูความสามารถของร่างกายในการผ่อนคลายและบรรเทาอาการตึงเครียด และสนับสนุนความสามารถในการบำบัดตนเองเพื่อที่จะสลายการอุดตันของพลังงาน
Understanding:
Physical Body: This is the body comprises of the skeletal framework, muscles, tissues, organs, blood, and five senses etc. The physical body has a great capacity to inform you when something is wrong or right. It can be positively or negatively affected by the foods we eat, the thoughts we think and the emotional state that we reside in at any given moment. Thus it may lead to a person having a headache, migraine, cancer, stress, and lower back pain etc.
Emotional Body: The emotional body depicts as a person becomes sensitive and trust his or her inner feelings. It reflects the ability to feel and communicate. It acknowledges to awareness of self as valuable, worthy of love, kindness, respect, and compassion. It is with the emotional body a person will feel the pleasure, pain, fear, courage, attachment, and jealousy etc. As the emotional body develops first, it eventually corresponds to the foundation of the mental body.
Mental/Spiritual:The mental body is made up of our attitudes about life and self. It reflects the capacity of thinking. There are two parts to the mental body: the egoic mind (little mind) and the Divine mind. The egoic mind is a powerful tool for creating a harmonious reality or a reality of suffering. The spiritual body depicts to a person's aspects through meditation, prayer, and inner reflection. The spiritual body reveals the increasing unfoldment of person's spiritual nature that begins to open the doorway into enlightened and expanded states of consciousness.
ความเข้าใจพื้นฐาน:
ร่างกายเนื้อ: นี่คือร่างกายที่ประกอบไปด้วยโครงกระดูก กล้ามเนื้อ เนื้อเยื่อ อวัยวะ เลือด และประสาทสัมผัสทั้ง 5 ฯลฯ ร่างกายเนื้อมีความสามารถสูงในการแจ้งคุณเมื่อบางสิ่งบางอย่างนั้นผิดหรือถูก มันอาจได้รับผลกระทบเชิงบวกหรือลบจากอาหารที่พวกเราทานเข้าไป ความคิดของเราและสภาพอารมณ์ที่พวกเราอาศัยอยู่ข้างในที่ช่วงเวลาใดๆ ดังนั้น มันอาจนำไปสู่อาการปวดศีรษะ ไมเกรน มะเร็ง ความเครียด และอาการปวดหลังช่วงล่าง ฯลฯ ของบุคคลหนึ่งๆ
ร่างกายอารมณ์: ร่างกายอารมณ์แสดงถึงความอ่อนไหวและการเชื่อความรู้สึกภายในตนเองของบุคคล มันสะท้อนถึงความสามารถในการรู้สึกและสื่อสาร มันยอมรับการรับรู้ความรู้สึกของตนเองในฐานะที่เป็นสิ่งที่มีค่า คุณค่าของความรัก ความอ่อนโยน ความเคารพและความเมตตากรุณา ด้วยร่างกายอารมณ์นั้นเองที่บุคคลจะรู้สึกพึงพอใจ เจ็บปวด กลัว กล้าหาญ ยึดติด และอิจฉาริษยา ฯลฯ เนื่องจากร่างกายอารมณ์พัฒนาก่อน ที่สุดแล้วมันจึงสอดคล้องกับรากฐานของร่างกายจิตใจ
ร่างกายจิตใจ/จิตวิญญาณ: ร่างกายจิตใจประกอบด้วยทัศนคติของเราเกี่ยวกับชีวิตและตนเอง มันสะท้อนถึงความสามารถในการคิด มีสองส่วนในร่างกายจิตใจ: จิตอัตตาหรือความสำคัญตนเอง(จิตใจที่คับแคบ) และจิตที่เชื่อมต่อกับเบื้องบน จิตอัตตาเป็นเครื่องมืออันทรงพลังสำหรับสร้างความเป็นจริงที่กลมกลืนหรือความจริงที่ทุกข์ทรมาน ร่างกายจิตวิญญาณอธิบายถึงลักษณะของบุคคลผ่านการทำสมาธิ การสวดมนต์ และภาพสะท้อนจากภายใน ร่างกายจิตวิญญาณเผยให้เห็นถึงการคลี่ออกมากขึ้นเรื่อยๆ ของธรรมชาติจิตวิญญาณของบุคคลที่เริ่มจะเปิดประตูเข้าไปสู่สภาวะของจิตที่แผ่ขยายและรู้แจ้ง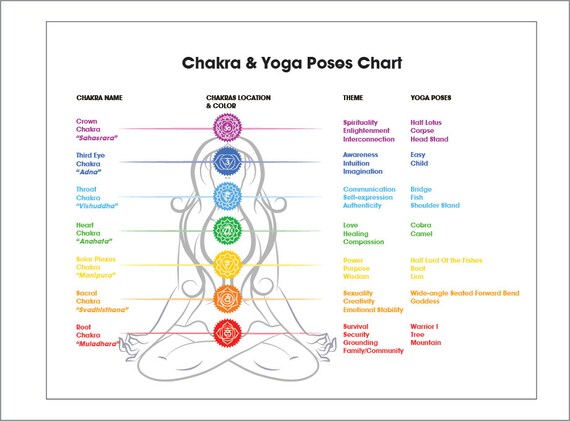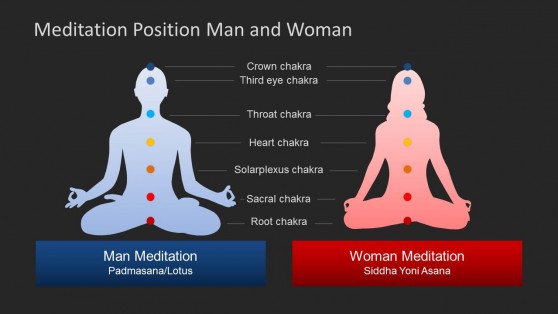 Raja Yoga Meditation